The Bijak Journal is a scientific journal of Administrative Science Business, published by the Business Administration Studies Program Faculty of Administrative Sciences Institute of Social and Management Studies STIAMI. The Journal of Business Administration is published 2 (two) times a year, every March and September, which contains the results of the study of Business Administration Studies. This journal aims to disseminate the results of thought and scientific analysis in the field of Business Administration Sciences.
P - ISSN 1411-0830 (Media Cetak)
E - ISSN 2621-749X (Media Online)

Email :  journalbijak@gmail.com
Email :  journalbijak@stiami.ac.id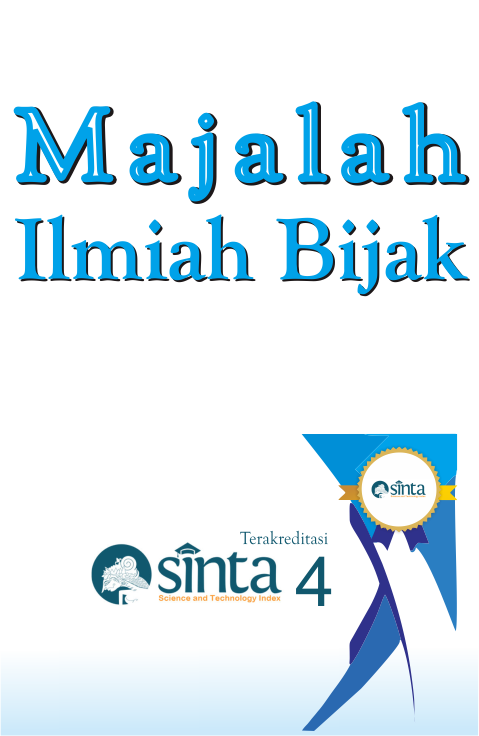 Announcements
No announcements have been published.
Vol 16, No 2: September 2019
Table of Contents
Articles
| | | |
| --- | --- | --- |
| | Setyarini Santosa, Josep Ginting | 75-84 |
| | | |
| --- | --- | --- |
| | Supriyadi Supriyadi | 85-92 |
| | | |
| --- | --- | --- |
| | Rina Safitri, Sugiyanto Sugiyanto, Sri Sulistijowati Handajani | 93-97 |
| | | |
| --- | --- | --- |
| | Aisyah Zahrotul Hidayah, Sugiyanto Sugiyanto, Isnandar Slamet | 98-103 |
| | | |
| --- | --- | --- |
| | Adebun Adebun, Sugiyanto Sugiyanto, Isnandar Slamet | 104-109 |
| | | |
| --- | --- | --- |
| | Khaeruman Khaeruman, Hafidz Hanafiah | 110-120 |
| | | |
| --- | --- | --- |
| | Ahmad Mukhlis, Novanda Puspha Zahra | 121-130 |
| | | |
| --- | --- | --- |
| | Diana Novita, Agus Herwanto, Meiyanti Nurchaerani | 142-145 |
| | | |
| --- | --- | --- |
| | Indah Sulistyowati, Darno Darno | 146-157 |